A handy guide covering the best tech hardware of 2020 during the pandemic including graphics cards, motherboards, monitors, and more! Read all about the best hardware of the year…
Video Card
NVIDIA GTX 2070 SUPER
Hard to beat this mighty card and two of them will get you into 3090 territory. NVLink compatible they fly and for just $550 at the time of writing you can have some serious fun at 1440p and 4k! Don't expect much above 60 fps at the Ultra settings but remember most people don't have or cannot afford a 120hz display right now. Finally, these cards are "Upgrade Eligible" to 3080 and 3090 models at the current time. Learn more about this program here. Essentially you can pay EVGA the difference of the newer model card. Amazing offering. So buy a 2070 Super now, join the line for the upgrade to a 3080/3090 and enjoy great graphics card until then! Oh, and yes you could buy two 2070 Super, play with NVLink and upgrade both! Best of all, you don't have to really decicde until later – maybe you like the 2070 Super enough to not upgrade when you can finally buy the 3080! EVGA Step Up Program
By far the best motherboard for a prosumer during the pandemic is the mighty X470D4U2-2T. This board features IPMI connectivety perfect to leave at home while you take off to your remote work cabin in the woods, or to keep running with dual 10 gigabit ethernet connections for a home grown VPN build. You can find these sub-$400 at the time of writing and this is well worth it for the IPMI and dual 10 GBE.
The value champion of the year! Found on eBay for $225 unlocked for any carrier – this Hub is no longer sold from Sprint but can still work on any carrier once unlocked! The devices runs full android and has a screen that is gorgeous, the processor and graphics are fast enough to watch 4k youtube. When it comes to wireless performance, the x55 chip has some of the fastest 4G speeds I have been able to find so far. Needed a sim that works with sprint/t-mobile to update the OS but after that, was still able to switch provider and use device with just about anything! The device has a speaker, usb-c, battery, and ethernet jack. It's a truly amazing deal for the features available.
This is the only edition that comes with a 10,000 MaH battery! Amazing product that makes it easy to plug into anything with an HDMI port even if you don't have power for the display. The battery can even charge devices and the screen has speakers, a stand, and adjustable brightness! Considering the size, at 15″ – 4K is too small to even use on a display of this size, so stick to the 1080p model – and the one with a battery. You won't regret it.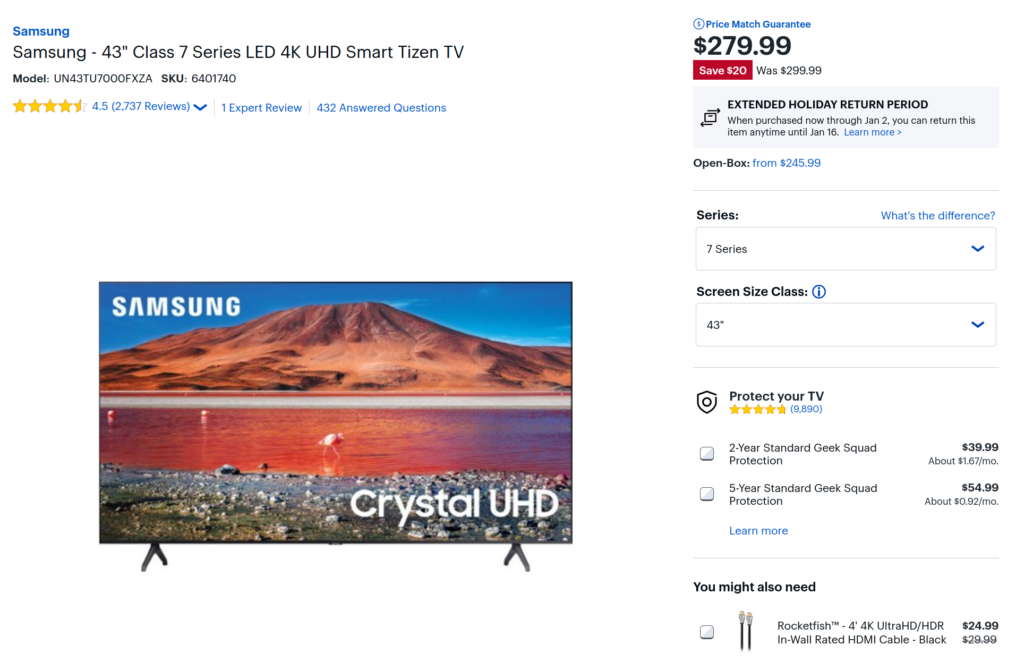 This TV is available for $279.99 at BestBuy and can be used as a monitor as long as you are sitting far enough back from the screen (about 4 feet).